A 3D model of a creature resembling a cross between a Penguin and a Toucan. Creature concept Dmitri Carapezza, 3D model by Admiral Potato.
---
Posted in Models || Originally created on 2009-08-02 00:00:00 || Posted on 2010-01-10 13:57:39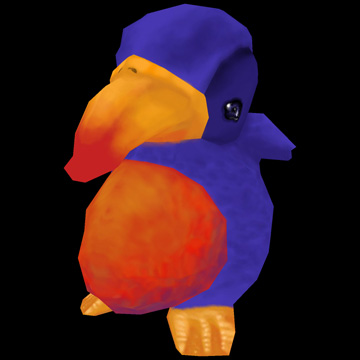 ---
Original concept and drawing by Dmitri Carapezza
model
3D model by Admiral
---
Texture map painted by Dmitri Carapezza
---
According to Dmitri, this little guy's official full name is "And The Heartbreak Kid".

Once upon a time, Admiral was new at this whole "Modeling organics in 3D" concept. On a quest to obtain decent sketches to practice making a 3D model of, Admiral sought out the wise "DmiTree of Knowledge and Drawing Things". And then it happened. The end. And then Admiral made a model of it. The end. And then Dmitri painted it. The end. Dmitri will finish painting it later. The end.
Space Bugs have invaded this page! Will you defend this Sector?